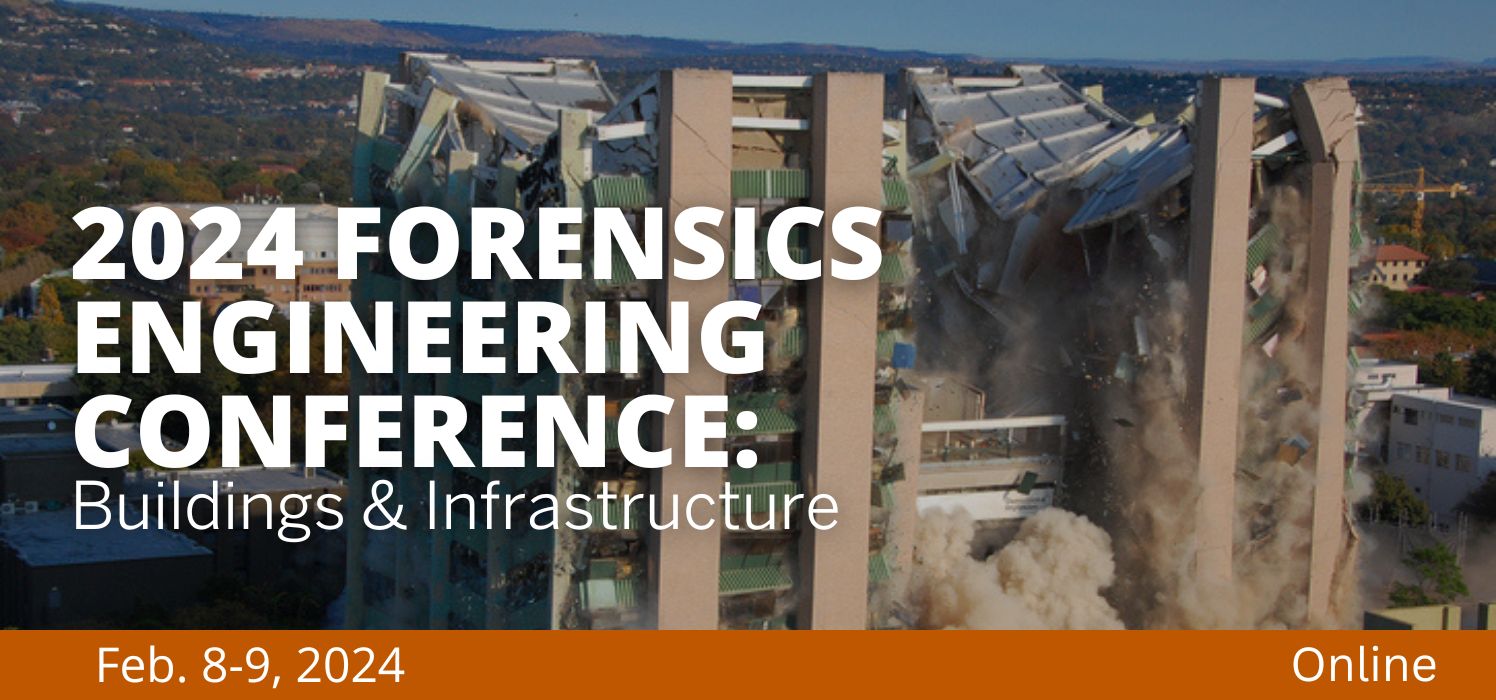 Feb. 8, 2024 8 a.m. – 5:20 p.m. CT
Feb. 9, 2024 8 a.m. – 4:20 p.m. CT
UT Austin — Pickle Research Campus
David Fowler, Ph.D., Lead Faculty
$650 In Person
$550 Online
Faculty, Student and Group Discounts
1.5 CEUs and Digital Badge Credential
The 2024 Forensics Engineering Conference at UT Austin's Cockrell School of Engineering brings together the best of academia and industry for an exciting exchange on forensics engineering. Conference topics include real-world case studies and lessons from significant structural forensic failures, presented by engineering experts.
The conference is offered in person at UT Austin's J.J. Pickle Research Center, providing significant networking opportunity. There is also an online Zoom option for those unable to attend in person. 
Dates
Time
Location
Price
 
Thurs. and Fri.
Feb. 8 - Feb. 9, 2024
8 a.m. – 5:20 p.m. CT
In Person
$650
Thurs. and Fri.
Feb. 8 - Feb. 9, 2024
8 a.m. – 4:20 p.m. CT
Online
$550
Special discount rates for faculty, students, retirees, government, military, non-profits and groups over four. Contact This email address is being protected from spambots. You need JavaScript enabled to view it. to learn more.
Conference Sessions
3 Garages, 3 Repairs – How Stakeholders Influence Repair Design
Forensic Engineering in the Northeast
The Crucial Role of Forensic Engineering in Subrogation Litigation
The Minnesota I-35 Bridge Collapse
Sampling Methodologies for Forensic Investigations
Just Add Water: A Concept & Case Study Exploration of Water in the Built Environment
Duty to Warn
Predicting the Future: How Fitness for Service Evaluation was Used to Determine the Fate of Damaged Industrial Equipment
A Legal Perspective for Forensic Engineers: Case Studies in Contracts and Negligence
The Practice of Forensic Engineering in Academia
CROSS-US – Opportunities to Warn
Hurricane Harvey Flood Damage to Corporate Campus
ANO-Slight Change-Big Disaster: Arkansas Nuclear One
Evaluation of a Reinforced Concrete Cooling Tower
Abstracts/Bios
View list of speakers and abstracts.
Agenda
View the full agenda here.
Design Structural Engineers
Forensics Engineers
Engineers in materials laboratories
Architects interested in technical issues
Foundation Engineers
Engineers in public service
Engineers-in-Training
Engineers involved in building envelopes
Civil Engineering faculty and students
Attendees will earn a digital badge and 1.5 Continuing Education Units (CEUs), including one hour of ethics. Attendees must attend the entire conference, either live or online, to earn CEUs and the digital badge.
CEUs are applicable towards the continuing education requirements for PE license renewal in Texas. These hours may also be applicable towards license renewal requirements in other states.
More information on continuing education requirements for PE license renewal:
"Very well-prepared presentations. Interesting historical information highlighted the difference in project development using early engineering concepts compared to technology available today." 
"Dr. Karl Frank was one of the best presentations of the entire conference. Real-world examples we can learn from! Case study presentations like this are the best."
"Great case studies to show use of FRP is more general than just confining columns that need strengthening! The information is useful and educational! These presentations are good exposure to unknown areas of Forensics." 
"Dr. Fowler continues to provide the best continuing education offered." 
"This conference has always been informative. I would recommend it to all levels of engineers and architects because it calls attention to many issues often overlooked which can end up being significant to project success." 
"Knowledgeable presenters speaking about real-word issues in a manner that I can relate to."