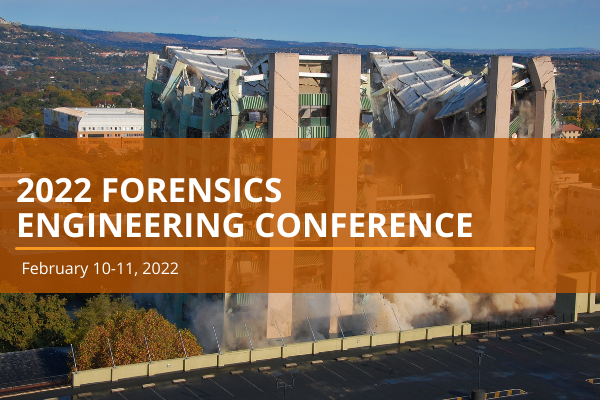 This annual conference brings together the best of academic and industry for an exciting exchange on Forensics Engineering. By using real-world case studies such as hurricanes, structural failures and foundation issues, the conference focuses on lessons learned across a variety of topics. Topics covered in previous years include: non-destructive testing for forensics investigations, the role of the Forensic Engineer in the legal process, forensics related to hurricanes Harvey and Irma, and Engineering Ethics, among others.
Who Should Attend?
Design Structural Engineers
Forensics Engineers
Engineers in materials laboratories
Architects interested in technical issues
Foundation Engineers
Engineers in public service
Engineers-in-Training
Engineers involved in building envelopes
Agenda
Download the conference agenda (pdf)
This email address is being protected from spambots. You need JavaScript enabled to view it.
Registration is closed. Contact the

This email address is being protected from spambots. You need JavaScript enabled to view it.

for more information.
Frequently Asked Questions
Topics include:
Pensacola Bridge collapse
Engineering Ethics
3D Forensics
and more!
February 10-11, 2022 from 8:00am to 5:00pm
Note: there will be multiple 15-minute breaks throughout the day, as well as a lunch break each day
You will be awarded 15 hours of continuing/professional education credits, including 1 hour of Ethics, which are applicable towards the continuing education requirements for P.E. license renewal in Texas. These hours may also be applicable towards license renewal requirements in other states.
More information on continuing education requirements for P.E. license renewal:
This email address is being protected from spambots. You need JavaScript enabled to view it.