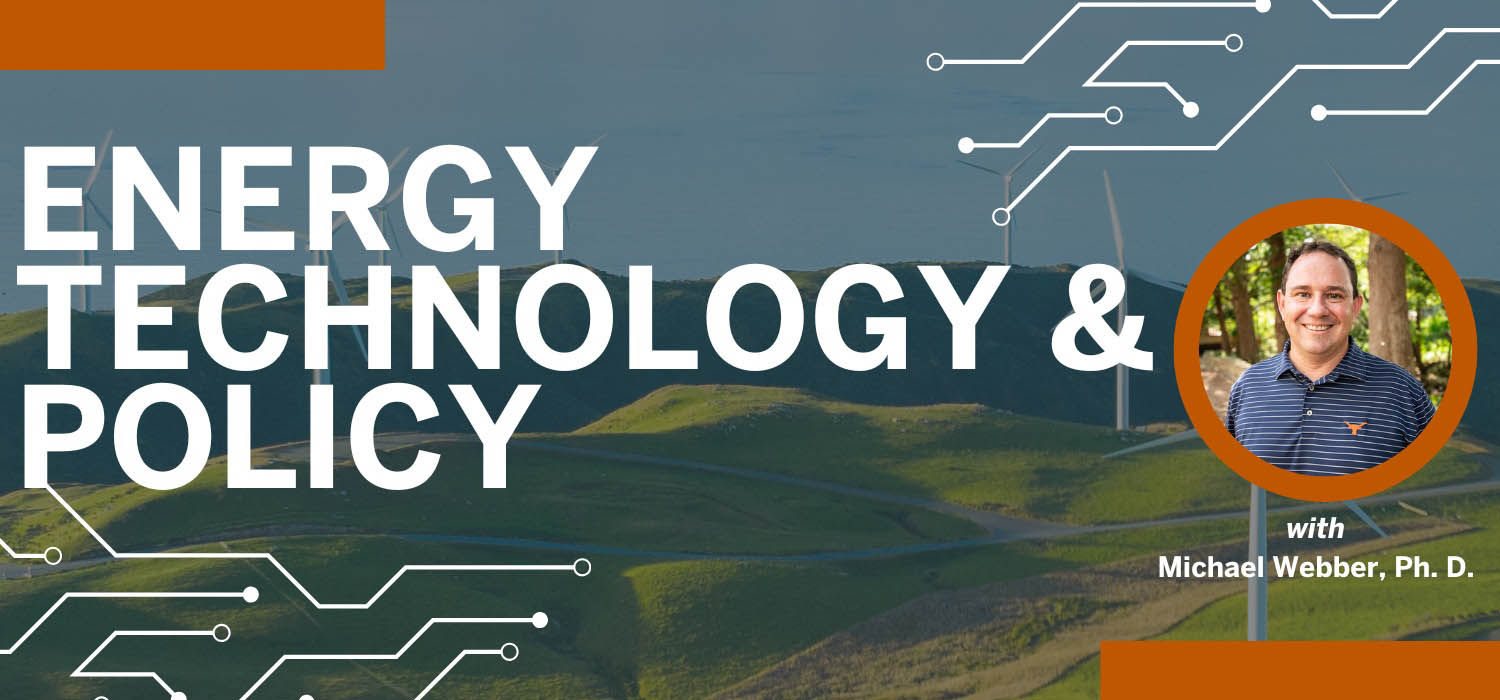 Mon. Wed. and Fri., Jan. 22, 24, 26, 2024
Mon. Wed. and Fri., Jan. 29, 31, Feb. 2, 2024
Mon. Wed., Feb. 5, 7, 2024
10 a.m. – 12 p.m. CT
Michael E. Webber, Ph.D., lead instructor
Synchronous, online via Zoom. Recordings provided.
$750. Group discounts available.
Credentials: 1.6 CEUs, Cockrell School of Engineering Digital Badge, Energy 101 Certificate of Completion
The worldwide energy sector is going through dramatic shifts in energy demand, end-uses and sources. Population and economic growth are driving up total demand. Industrialization, urbanization, electrification, and motorization are changing how we use energy, while a push for domestic, low-carbon and renewable fuels is changing our sources of energy.
More professionals are needed who can navigate this rapidly changing landscape, and the Energy Technology and Policy (ETP) course offers that preparation. This course teaches about renewables, energy transition, changing energy technology and policy.
Important current issues are woven into the curriculum, such as: Peak gasoline demand in 2018/USA and 2023/China; major acquisitions by Exxon Mobil of Pioneer and Denbury, and Chevron of Hess; and participation in USA hubs for carbon and hydrogen.
ETP is led by UT Austin Professor Michael E. Webber, a world-renowned energy expert and host of the PBS documentary Power Trip: The Story of Energy. Dr. Webber and his team of senior energy researchers will lead you through all aspects of the energy industry — the history, science, technology, and challenges of energy sources and technologies (fossil, renewables, hydro, geothermal) — as well as potential future sources of energy and societal issues — economics, national security, and the environment.
Dates
Time
Location
Price
 
Mon. Wed. and Fri.,
Jan. 22, 24, 26, 2024,
Jan. 29, 31, Feb. 2, 2024
Mon. Wed., Feb. 5, 7, 2024
10a.m. – 12 p.m. CT
Synchronous Online Zoom
$750
For group and student discounts and special government, military, and non-profit rates, please contact This email address is being protected from spambots. You need JavaScript enabled to view it..
Learning Objectives:
Recall and define terminology, units, and magnitudes common in discussions of energy.
Identify the primary sources of energy.
Recognize how energy is connected across sectors.
Recognize different technologies used for energy production and consumption.
Interpret the basic laws of thermodynamics.
Generalize how energy needs, sources and uses have changed over time.
Relate energy issues and society, including economics, national security, and the environment.
Interpret data, industry reports, and government publications on energy.
Identify geographic trends in energy production and consumption. 
Agenda
View the full agenda here.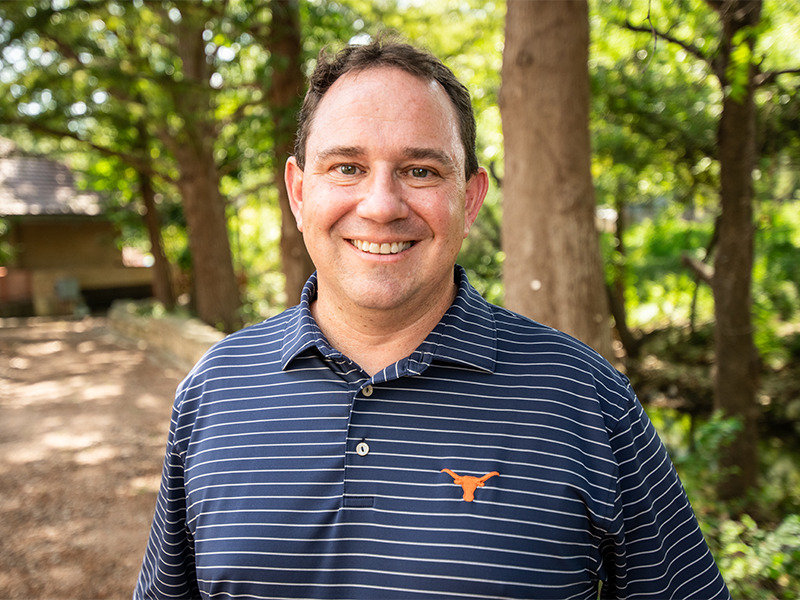 Michael E. Webber, Ph.D., is the Josey Centennial Professor in Energy Resources at the University of Texas at Austin and CTO of Energy Impact Partners, a $1.5 billion cleantech venture fund. From September 2018 to August 2021, Webber was based in Paris, France where he served as the Chief Science and Technology Officer at ENGIE, a global energy & infrastructure services company. Webber's expertise spans research and education at the convergence of engineering, policy, and commercialization on topics related to innovation, energy, and the environment. His latest book Power Trip: the Story of Energy was published in 2019 by Basic Books with an award-winning 6-part companion series that aired on PBS, Amazon Prime and iTunes starting Earth Day 2020. His first book, Thirst for Power: Energy, Water and Human Survival, which addresses the connection between earth's most valuable resources and offers a hopeful approach toward a sustainable future, was published in 2016 by Yale Press and was converted into an hourlong documentary. He was selected as a Fellow of ASME (the American Society of Mechanical Engineers) and as a member of the 4th class of the Presidential Leadership Scholars, which is a leadership training program organized by Presidents George W. Bush and William J. Clinton. Webber has authored more than 400 publications, holds 6 patents, and serves on the advisory board for Scientific American. A successful entrepreneur, Webber was one of three founders in 2015 for an educational technology startup, DISCO Learning Media, which was acquired in 2018. Webber holds a B.S. and B.A. from UT Austin, and M.S. and Ph.D. in mechanical engineering from Stanford University. He was honored as an American Fellow of the German Marshall Fund and an AT&T Industrial Ecology Fellow on four separate occasions by the University of Texas for exceptional teaching.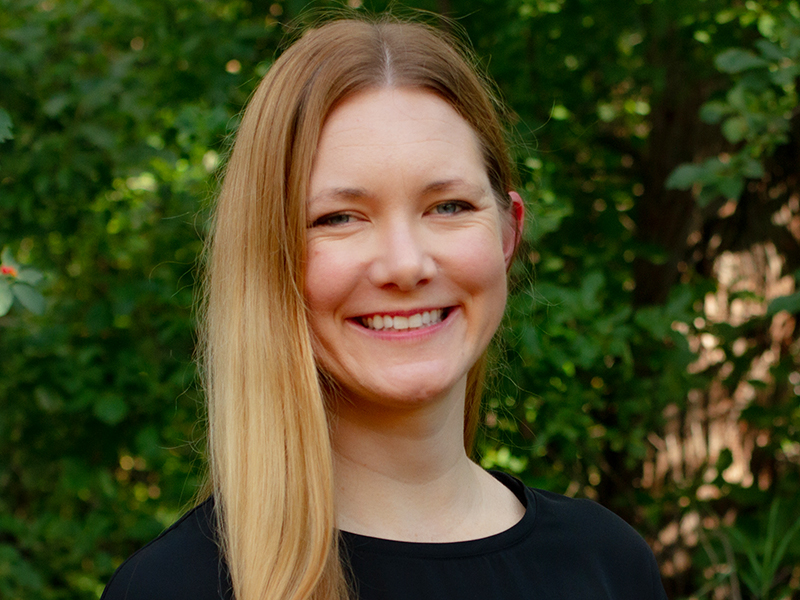 Emily Beagle, Ph.D., is a research associate in the Webber Energy Group at UT Austin. She currently works on energy policy and pathways to the decarbonization of the global energy system, with a particular focus on the deployment and use of hydrogen to reduce emissions in the hardest-to-abate sectors. Beagle is interested in using technical and engineering analysis to inform energy policy development. Before joining the Webber Energy Group, Beagle was a senior associate with the Climate Aligned Industries program at RMI and led the policy work for the Green Hydrogen Catapult project. Beagle also served as the ASME Congressional Fellow in Energy in the office of Senator Tina Smith in 2020. She holds bachelor's degrees in Energy Systems Engineering and Mechanical Engineering, as well as a Master's and Ph.D. in Mechanical Engineering from the University of Wyoming.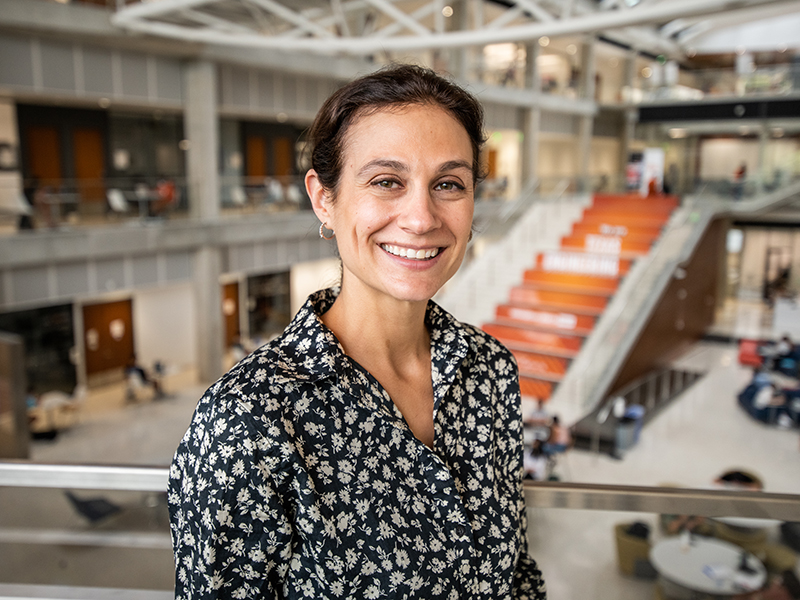 Yael R. Glazer, Ph.D., is a research associate in the Webber Energy Group at The University of Texas at Austin. She earned a B.S. in Bioengineering from The University of California at Berkeley, an M.S. in Environmental and Water Resources Engineering, and a Ph.D. in Civil Engineering from UT Austin. Prior to graduate school, Glazer spent seven years working at Genentech, one of the world's leading biotech companies, developing and optimizing manufacturing processes to bring medicines to patients with unmet medical needs. Glazer's current research interests include energy, water, food waste, and the environment. Glazer also teaches an introductory course, Energy and Society, at UT Austin. In addition to academic research and teaching, Glazer consults with investors to assess the technical and economic feasibility of emerging innovations and energy projects.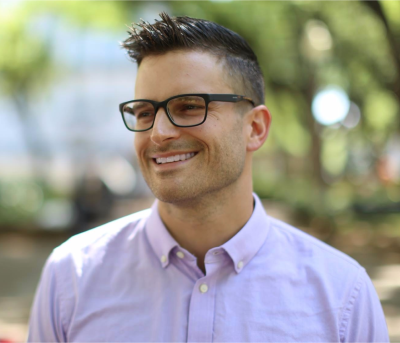 Joshua D. Rhodes, Ph.D., is a research associate at UT Austin and a founding partner of IdeaSmiths, LLC, an energy consultancy. His current work focuses on smart grid and the bulk electricity system, including spatial system-level applications and impacts of energy efficiency, resource planning, distributed generation and storage. Rhodes is also interested in policy and the impacts that policy can have on the efficiency of the micro and macro economy. He is a regular contributor to "Forbes" and is an "AXIOS" Expert Voice. Rhodes sits on the board of the Texas Solar Energy Society and the data advisory board of Pecan Street Inc., a smart energy consortium. He holds a Bachelor's in Mathematics and Bachelor's in Economics from Stephen F. Austin State University, an M.S. in Computational Mathematics from Texas A&M University, and an M.S. in Architectural Engineering and Ph.D. in Civil Engineering from UT Austin. Follow Joshua on social media @joshdr83.
Professionals in the energy industry who want to deepen and broaden their knowledge.
Professionals in coal, oil, or gas who wish to expand into clean energy topics.
Professionals in finance, consulting, human resources, etc., who want to know more about the energy sector.
Environmental organizations.
Environment and energy public policy officials at all levels.
A six-month subscription to ENERGY 101 is included free when you register for Introduction to Energy Technology and Policy.
Energy 101 is a comprehensive, interactive course (32 chapters in 8 sections) developed by Dr. Webber. The course starts with energy basics, then surveys the various energy sources, end-use sectors, and cross-cutting elements such as food, water, policy, and the economy. After completing the online course, students earn a certificate of completion for Energy 101: Energy Technology and Policy."
POWER TRIP: The Story of Energy
A complimentary e-book version of Dr. Webber's: 
Power Trip: The Story of Energy
, is included when you register for this course
Yes, students who complete the course and pass the Energy101: Technology and Policy interactive e-course will earn a certificate in "Energy, Environment, and Sustainability." Upon completion, students are also awarded 1.6 Continuing Education Units (CEUs).
TxEEE now issues digital badges that can be used to show that you have completed a course with us. This badge is secure verification that you can share on social media or with anyone of your choosing.   These badges can also be printed as a traditional certificate.
Upon completing this course, you will receive a digital Energy, Environment, and Sustainability badge and a rewarded 1.6 Continuing Education Units (CEUs). Attendees must attend the entire professional development course to earn this badge and receive CEUs.
Upon completing the supplemental Energy101 course, you will get a certificate of completion for Energy101: Energy Technology & Policy. It will not be available as a digital badge, and no CEUs will be offered.
"I really liked all the instructors' enthusiasm for the subject matter and their abilities to make such complex material understandable for people who are not in the industry, engineers, or physical scientists. This was, by far, the best explanation of the pricing and dispatching model within our ERCOT market that I have come across. I will be recommending this course (and others by the Webber Group) highly to my colleagues at Austin Energy. This content will help me explain concepts better to our stakeholders. I also really liked the emphasis that there are always trade-offs and pros & cons, regardless of what direction we take. It seems like that fact often gets overlooked and gentle reminders are needed." 
- Kristan Bina, Austin Energy 
"Lack of bias in presentation of the information. It was thorough, complete, full-spectrum, and fair. The most comprehensive, meaningful and truly instructive teaching about energy to which I have ever been exposed."
- Sherry Spurlock, CPS Energy 
"Dr. Webber and his colleagues are extremely knowledgeable regarding all energy topics. If one does not know about something, another will. Dr. Weber and his colleagues seem to all have real-world experience in the energy industry, so applying real-world examples is easy for them." 
- Wilson Adams, Vista Cor