100% Online Master's in Mechanical Engineering Degree
Engineering-focused and industry-driven, our fully-online engineering master's program provides true flexibility.
UT-Austin's mechanical engineering graduate program at the Cockrell School of Engineering ranks within the top programs in the nation. This 100% online, asynchronous, executive master's degree allows engineers to earn a world-class education remotely—anywhere, any time. This program's convenient online structure provides challenging materials using current best practices in online delivery, including discrete lecture modules and experiential learning capabilities. Our online master's degree is identical to that awarded by the full-time program and comes fully-backed by the globally recognized UT-Austin brand. Courses are presented as they relate to current industry trends, and the program incorporates a focus on intellectual property and how it relates to the mechanical engineering industry.
WANT TO LEARN MORE?
Class Format
This 30 credit-hour, non-thesis program can be completed within two years, and the increased flexibility of remote learning allows students to work at a pace that is designed to fit their busy schedules. The modular courses in this online program have been designed from the ground up to incorporate current best practices in online education. Courses are broken into small, manageable segments that are completed asynchronously by a cohort of students. Lessons may consist of case studies, short videos, group discussions, and experiential projects for students to apply new knowledge.
Students will receive regular feedback and communication from instructors and classmates within the cohort. After a series of lessons have been completed throughout the semester, students' progress is measured using traditional exams, project-based assessments and other measures.
Benefits
Earn a completely online Engineering Master's Degree from the renowned Cockrell School of Engineering.
Online courses are industry-relevant and immediately applicable to engineering jobs.
Acquire the necessary knowledge and skills to design and manufacture successful products and design processes utilizing emerging technologies.
Learn to solve engineering design and synthesis problems, develop models and control systems, and analyze heat transfer systems.
Online course structure is designed in accordance with current best practices in remote learning.
Graduates receive the same Master of Science in Mechanical Engineering awarded by the traditional full-time MSME program.
Learn More from the Program Director
Speak with our Admissions Expert
For additional information on our graduate master's degree programs, please contact This email address is being protected from spambots. You need JavaScript enabled to view it. at 512.232.5199.
Tuition and fees for the 2020-2021 academic year are below:
Total tuition & fees, regardless of residency: $42,000 ($4,200 per course).

A non-refundable $1,000 deposit is required once you accept our offer of admission and is credited toward your first semester program costs.
Students may be eligible for financial aid or student loans through the Office of Financial Aid (OFA). Detailed financial aid application instructions are available on OFA's website.
Texas Engineering Executive Education welcomes veterans, active duty members and their families. If you have questions about your eligibility as it relates to the University of Texas at Austin, please contact Student Veteran Services for assistance.
*Please note that H-H benefits are not applicable as our program does not receive state funding.
Due to Covid-19, GRE is NOT required for Fall 2021/Spring 2022 applicants*
ADMISSIONS PREREQUISITES
Bachelor of science in engineering, or related field
Conditional admission may be possible with less than a 3.0 GPA
A minimum of 12 months of industry experience
International students must provide a TOEFL or IELTS score
APPLICATION MATERIALS
Apply Online
Statement of Purpose
2 professional letters of recommendation
GRE (UT reporting code 06882) - it may take up to 72 hours for the GRE waiver to take effect and be reflected on your mystatus page.
After you have submitted your application and application fee, you will be able to upload the following:
College transcripts – uploaded official transcripts are considered unofficial but are sufficient for application review.
Official transcripts bear the facsimile signature of the registrar and the seal of the issuing institution. Transcripts from U.S. colleges or universities must have been produced within the last calendar year, and transcripts written in a language other than English must be accompanied by a translation.
Please note: upon admission you will be required to submit official transcripts.
Official transcripts from each university or senior college attended. If you are a former UT undergraduate, transcripts will be requested for you automatically.
APPLICATION DEADLINES
Fall
Final Deadline: In order to be considered for the fall semester, completed applications must be received no later than July 1st.
Spring
Final Deadline: In order to be considered for the spring semester, completed applications must be received no later than November 1st.
Applications are received and reviewed on a year-round basis. Admission decisions are made as application files are completed. Early application is strongly encouraged.
No decision to admit will be made until all required materials have been received. Applications completed after the deadline may be subject to additional fees due to late registration charges. These expenses will be passed on to students and are payable at enrollment.
Admissions decisions are made on the basis of a holistic review of all completed applications, including transcripts, GRE scores, letters of recommendation, statement of purpose, and industry experience.
For additional information on our graduate programs please contact:
This email address is being protected from spambots. You need JavaScript enabled to view it. at 512.232.5199.
M E 381M Statistical Methods for Process Control and Manufacturing - 3 credit hrs
This course covers fundamental methods for statistical monitoring of processes, including Shewhart control charts, control charts for individual measurements, CUSUM charts and attribute control charts. In addition, design of experiments, including the statistical evaluation of main and interaction effects, as well as intelligent experimentation through reduced factorial experimental design, will be taught. DOE-based search techniques will be offered on advanced research in model based and active process control in highly flexible and sophisticated manufacturing systems, such as semiconductor manufacturing lithography of flexible automotive assembly lines.
M E 383M Heat Transfer in Industrial Systems - 3 credit hrs
This course will provide engineers with a deeper understanding of heat transfer in physics and the tools to analyze a wide range of industrially relevant heat transfer problems. Engineers will develop the skills to analyze heat transfer systems associated with a diversity of industrial applications and will learn how to use order of magnitude analysis to simplify complex problems and solution techniques for the three modes of heat transfer.
M E 384M Fluid Mechanics in Industrial Processes - 3 credit hrs
This course will offer practicing engineers and technology managers a comprehensive treatment of various fluid mechanics topics. Working professionals will enhance their knowledge and understanding of fluid flow and related phenomena in multiple application spaces. The skills developed in this course will benefit the design and analyses of various fluid-based systems.
M E 385M Applied Thermodynamics - 3 credit hrs
This course addresses the design and analysis of systems in which thermodynamic processes are central to function and performance. Fundamental thermodynamic concepts, such as enthalpy, entropy, energy, 1st & 2nd law, psychrometrics and combustion, will be reviewed. Practical topics, such as system-level thermodynamic processes for automotive engines, power plants, renewable energy production and HVAC systems, will be discussed in detail. Real-world examples will be given to cultivate skills of solving problems with basic knowledge of thermodynamics.
M E 386M Modeling, Simulation, and Control of Physical Systems - 3 credit hrs
This course reviews principles used to understand and model physical systems and introduces methods for building mathematical and simulation models of engineering systems. Emphasis is placed on development of dynamic system models for predicting the behavior or performance of systems, models for efficient data reduction or test development, models for design, and the role of models in control development. Bond graph methods are introduced especially for analysis of systems having combinations of mechanical, electrical, magnetic, electromechanical, fluid, and thermodynamic effects. The role and application of physical models in development and design of feedback controllers and estimation methods is also introduced. Applications from a broad area of engineering systems are used to motivate the topical discussion.
M E 387M Introduction to Automatic Control - 3 credit hrs
The concept of feedback is central in the study of systems and control. Feedback loops are common in nature, even in the most basic biological phenomena from the macroscopic (i.e. population dynamics, climate, etc.) to microscopic (i.e. regulation of glucose levels, temperature regulation, etc.) scales. In engineering, feedback plays a critical role in mechanical, electronic, chemical, and digital systems. More generally, systems theory and feedback are central to understanding, analyzing, and designing systems with interconnected components. It is important to understand not only if a system can be controlled, but in what frequency range and under what conditions.
The purpose of this class will be to gain a basic intuition for and understanding of linear feedback systems and develop the mathematical tools to understand the basics of design and analysis of single-input single-output feedback control systems. This class will build on the system modeling skills developed in previous courses in order to better understand how to control a system's behavior.
M E 397 Product Design Lab - 3 credit hrs
This course will focus on design methodology that will include a survey of current research in areas in design theory and methodology Students will acquire tools for solving engineering system designs and synthesis problems which they can apply in a reverse engineering and redesign project.
M E 391M Introduction to Manufacturing Systems - 3 credit hrs
With an emphasis on continuous flow manufacturing, this course will provide engineers with the knowledge and skillset to effectively analyze and design production systems to decrease manufacturing costs, decrease defects, and shorten delivery time by reducing process cycle times.
M E 389M Materials Science and Engineering - 3 credit hrs
An exploration of the fundamental aspects of the relationships between processing, structure, properties and performance of engineering materials. In this course, students will study metals, ceramics, polymers, and composites.
ENM 397 Engineering Economics - 3 credit hrs
Students are introduced to the fundamental topics of engineering economics, notions of risk and decision-making under conditions of risk and uncertainty, with applications to engineering design, business operations and planning.
Online Learning Model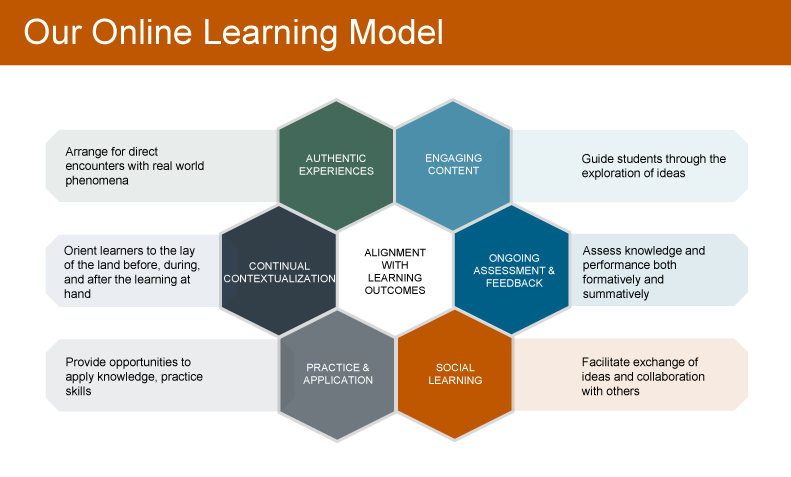 Fall Semester Enrollment
Fall 1
M E 385M Applied Thermodynamics
M E 386M Modeling, Simulation, and Control of Physical Systems
Spring 1
M E 381M Statistical Methods for Process Control and Manufacturing
M E 383M Heat Transfer in Industrial Systems
Summer 1
M E 384M Fluid Mechanics in Industrial Processes
Fall 2
M E 389M Materials Science and Engineering
M E 397M Engineering Economics
Spring 2
M E 387M Introduction to Automatic Control
M E 397M Product Design Lab
Summer 2
M E 391M Introduction to Manufacturing Systems
Spring Semester Enrollment
Spring 1
M E 381M Statistical Methods for Process Control and Manufacturing
M E 383M Heat Transfer in Industrial Systems
Summer 1
M E 384M Fluid Mechanics in Industrial Processes
Fall 1
M E 385M Applied Thermodynamics
M E 386M Modeling, Simulation, and Control of Physical Systems
Spring 2
M E 387M Introduction to Automatic Control
M E 397M Product Design Lab
Summer 2
M E 391M Introduction to Manufacturing Systems
Fall 2
M E 389M Materials Science and Engineering
M E 397M Engineering Economics
Director - Ofodike A. Ezekoye, Ph.D.| Heat Transfer in Industrial Systems
Dr. Ofodike Ezekoye is an expert in combustion and heat transfer in high temperature and reacting systems such as combustion engines, furnaces, and structure fires. In recent years, he has been a pi or co-pi on funded research from the Department of Commerce, AFOSR, and DOE. He has published over 200 journal and conference papers in heat transfer and combustion. His research covers a range of applications from fundamentals of combustion systems to scientific support of the fire service in developing fire-fighting tactics.
Vaibhav Bahadur, Ph.D.| Fluid Mechanics in Industrial Processes
Dr. Vaibhav Bahadur has four years of industry R&D experience, most recently in GE Global Research where he worked in the areas of flow assurance and efficiency as well as enhancement of power plant components. Dr. Bahadur has more than 20 journal and conference publications, and six patent applications. His research is targeted at a broad fundamental understanding of microscale thermal-fluid transport phenomena that impact power generation, oil and gas flow assurance, and thermal management sectors.
Michael Bryant, Ph.D.| Introduction to Manufacturing Systems
Dr. Bryant specializes in tribology (study of friction, wear, lubrication, and associated devices such as bearings, brushes and brakes), the design of mechatronic systems (integrated mechanical and electronic systems), system diagnostics of machinery, and is developing a new class of computers for solution of differential equations. Dr. Bryant is a faculty member of the Dynamic Systems & Control and Manufacturing & Design programs of the Mechanical Engineering Department.
Rich Crawford, Ph.D.| Engineering Design and Innovation
Dr. Richard H. Crawford is a Professor of Mechanical Engineering at The University of Texas at Austin and is the Temple Foundation Endowed Faculty Fellow No. 3. Dr. Crawford's research interests cover a wide spectrum of topics in computer aided mechanical design, design theory and methodology.
Dragan Djurdjanovic, Ph.D.| Statistical Methods for Process Control and Manufacturing
Dr. Djurdjanovic's performs research in modeling, diagnostics and control of complex systems, with applications in advanced manufacturing and automotive engineering. He leads the NSF Industry University Cooperative Research Center on Intelligent Maintenance Systems at the University of Texas, where numerous companies, including Intel, Texas Instruments, National Instruments and others, collaboratively pursue solutions to challenging problems in systems monitoring, process control and maintenance.
Bob Duvic, Ph.D.| Engineering Economics
Dr. Duvic, Distinguished Senior Lecturer, Department of Finance, received his B.A. from Tulane University, M.S. from the Florida Institute of Technology, M.B.A. and Ph.D. from the University of Texas at Austin. Dr. Duvic's areas of research include corporate capital budgeting, international corporate financial management and international foreign exchanges markets.
Raul Longoria, Ph.D. | Modeling, Simulation, and Control of Physical Systems
Dr. Raul G. Longoria's teaching and research interests focus on development and application of multi-disciplinary dynamic system modeling, vehicle system dynamics and controls, electromechanical system modeling and simulation, and medical device design and development for cardiovascular applications. Dr. Longoria is a registered Professional Engineer in the State of Texas, and a member of the ASME, IEEE, SAE, and ISTVS, and ASAIO.
This email address is being protected from spambots. You need JavaScript enabled to view it., Ph.D. | Material Science and Engineering
Dr. Mikulak has a PhD from the University of Texas at Austin Materials Science program and a both an MS and BS also from the University of Texas at Austin in Mechanical Engineering. Over the past 30 plus years, he has started and run several engineering and technology based businesses. He is currently leading a new business in the additive manufacturing materials space. He enjoys teaching, and while in the PhD program he won departmental teaching awards.
Mitchell W. Pryor, Ph.D. | Applied Dynamics and Feedback Control
Dr. Mitch Pryor earned his Ph.D. in Mechanical Engineering with an emphasis on operational software and algorithms for robotics from The University of Texas at Austin in 2002. His research focuses on the development of generalized operational software components for robotic systems. While initially focusing on the development of control and decision-making algorithms for serial manipulators, these efforts have since been generalized to mobile manipulation and automation workcell applications. Current research application areas include glovebox manufacturing/automation in hazardous environments, and mobile manipulators that interact with their environment.
Yaguo Wang, Ph.D. | Applied Thermodynamics
Dr. Wang received her Bachelor's degree in Safety Science and Engineering at the University of Science and Technology of China (USTC) in 2005 and her Ph.D. degree from the Department of Mechanical Engineering, Purdue University, Indiana, in 2011. Dr. Wang's research focuses on the study of micro/nano-scale heat transfer in nanomaterials, as well as fundamental phonon/electron dynamics with optical spectroscopy. Her research addresses many fundamental problems encountered in a wide variety of disciplines: thermoelectrics, photovoltaics, gas fuel generation, quantum-cascade lasers, etc.
Why Choose a Master's Degree from UT–Austin?
At The University of Texas at Austin, we take pride in our world-renowned professors who work to teach students in a collaborative environment, giving them the skills and experience necessary to tackle real world problems in inventive ways. The Cockrell School of Engineering is ranked among the nation's top 10 engineering programs and is the number one ranked engineering program in the state of Texas. Located in the heart of Austin, one of the world's leading tech capitals, UT is surrounded by an environment of creativity and ingenuity. Students here have opportunities to attend conferences that make an impact on a global scale, join student organizations and get involved in other events that UT and the City of Austin have to offer. A Master's Degree from UT will enhance your skills in the marketplace, prepare you for new careers and challenges and spark your desire to discover.
Who Should Apply
Applicants should have an accredited, four-year degree in Mechanical Engineering or a related technical field, with at least 12 months of professional experience.This degree is relevant to engineers looking to:
Advance their understanding of mechanical engineering technologies and applications
Move up into leadership or project management positions in engineering jobs
Acquire immediately applicable knowledge and skills